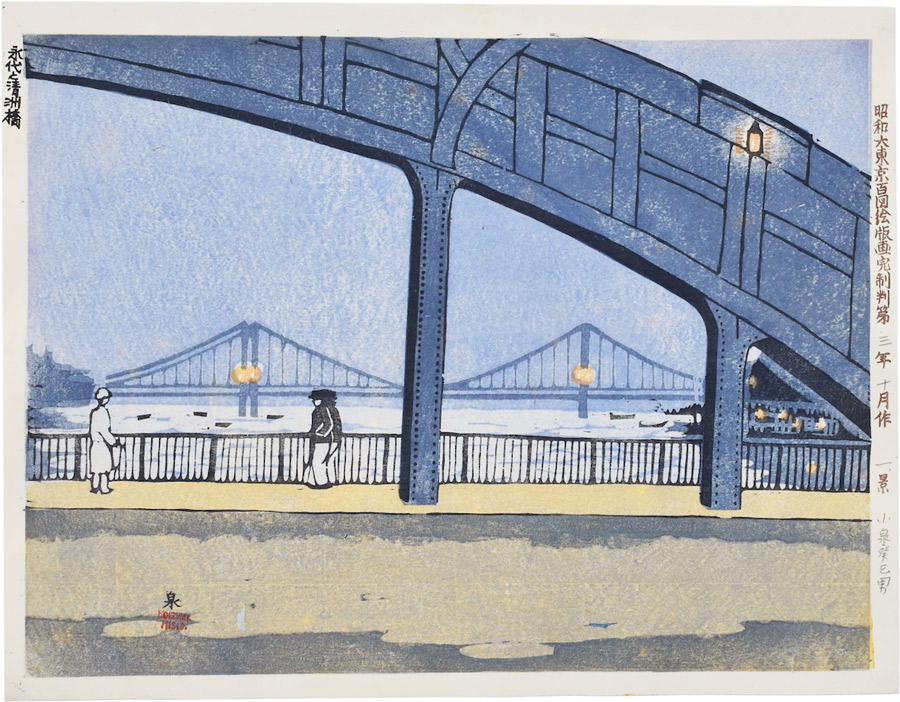 Kishio Koizumi (1893-1945), One Hundred Pictures of Great Tokyo in the Showa Era: Eitai and Kiyosu Bridge (no. 1), self-carved, self-printed; signed within the composition, signed in pencil, Koizumi Kishio, 1928, 12 x 15 3/8 in. (30.5 x 39.1 cm), From the complete set of 100; Courtesy Scholten Japanese Art
Asia Week New York Autumn 2023 continues with a wide selection of exhibitions, dealer appointments, and online shows.
Asia Week New York Online Exhibition:
Back by enthusiastic demand, we again offer our extremely popular Autumn 2023 online exhibition featuring highlights from our gallery and auction house members' current shows. Some of this year's participants are showing online only. To view this exceptional online show, click here.
10 gallery exhibitions are open in-person today:
TODAY'S AUCTIONS:
Christie's:
– Important Chinese Jade Carvings from the LJZ Collection starting at 9am
– Mineo Hata: An Instinctive Eye starting at 10:15am
– Marchant: Eight Treasures for the Wanli Emperor starting at 11am
– Important Chinese Ceramics and Works of Art starting at 11:30am
– Online auctions are open for bidding
Doyle:
– Asian Works of Art: Session Two starting at 10am
TODAY'S FEATURED EVENTS
iGavel Auctions'

three online auctions are open for bidding and their exhibition is open in New York

Bonham's

Online auctions are open for bidding
View all calendar events here.