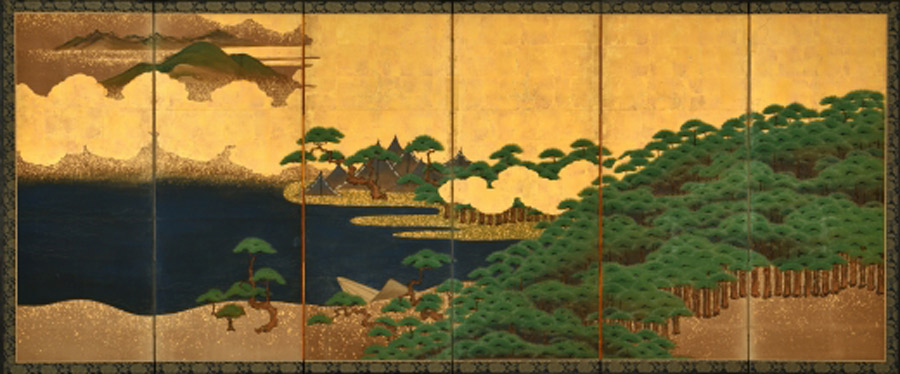 Folding Screens with Painting of Pines at Miho and Fishing Nets, A Pair of Six-Panel Folding Screens, Edo period, first half of the 17th c., ink and color on gold leaf, height: 271 x 111 cm (each); Courtesy Hiroshi Yanagi Oriental Art
Asia Week New York Autumn 2023 continues with a wide selection of exhibitions, dealer appointments, and online shows.
Asia Week New York Online Exhibition:
Back by enthusiastic demand, we again offer our extremely popular Autumn 2023 online exhibition featuring highlights from our gallery and auction house members' current shows. Some of this year's participants are showing online only. To view this exceptional online show, click here.
10 gallery exhibitions are open in-person today:
TODAY'S AUCTIONS:
Doyle:
– Asian Works of Art: Session One starting at 10am
Bonham's:
– Fine Japanese and Korean Works of Art starting at 10am
– Online auctions are open for bidding
Christie's:
– South Asian Modern + Contemporary Art starting at 10am
– Online auctions are open for bidding and auction viewings continue today
Sotheby's:
– Important Chinese Art: Session Two starting at 11am
TODAY'S FEATURED EVENTS
Heritage Auctions

Lots 78001-78236 starting at 11am CDT and Lots 78237-78418 starting at 4pm CDT online and in-person in Dallas

Philadelphia Museum of Art Zoom Webinar from 12-1pm


Connection, Community, and Care: Embroidered Kantha is a discussion on the community and care around embroidered kantha from colonial Bengal. This talk is in conjunction with the current exhibit, A Century of Kanthas: Women's Quilts in Bengal, 1870s–1970

iGavel Auctions'

three online auctions are open for bidding and their exhibition is open in New York
View all calendar events here.