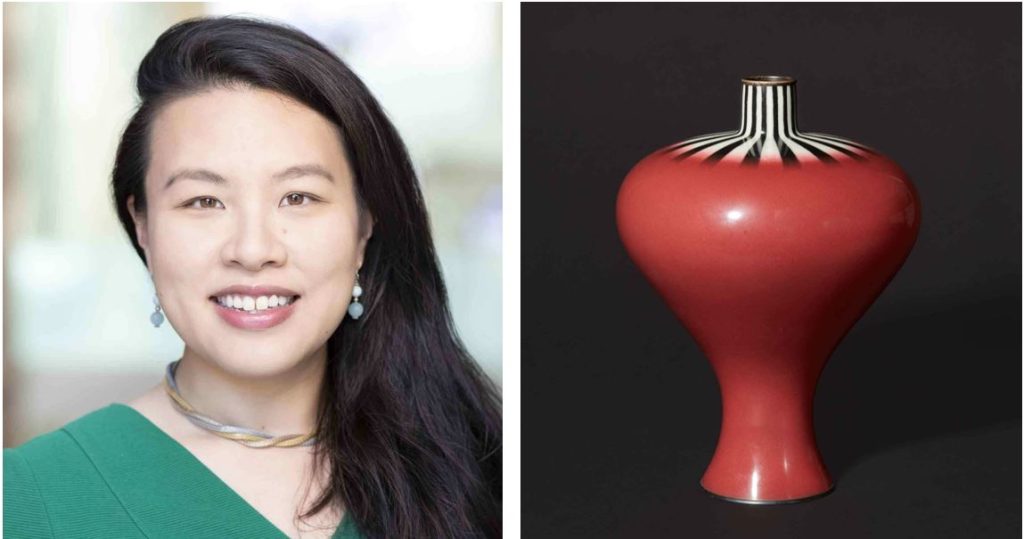 L-R: Stephanie Hueon Tung and Andō Jūbei Company, Vase with Radiating Black-and-White Stripes, Shōwa period, 1930s, wireless enamel on metal with silver rims, Promised Gift of Fredric T. Schneider and Lynn Whisnant Reiser. Photography © 2022 John Bigelow Taylor.
In recent weeks the Peabody Essex Museum in Salem, Massachusetts  reported important collections and curatorial advances. Stephanie Hueon Tung has been appointed the new Byrne Family Curator of Photography, a role which oversees one of the nation's oldest and largest photography collections, which includes approximately 2,500 works of 19th-century photography of China. Formerly serving as PEM's Assistant Curator and then Associate Curator with a focus on photography, Tung was instrumental in shepherding the 2020 acquisition of approximately 1,600 photographs by artists with ties to East Asia. Tung served as the Assistant Curator on PEM's 2019–20 exhibition, A Lasting Memento: John Thomson's Photographs Along the River Min, and is currently co-curating PEM's highly-anticipated, upcoming exhibition, Power and Perspective: Early Photography in China which opens in September 2022.
Prior to joining PEM in 2018, Tung worked at the Three Shadows Photography Art Centre in Beijing, China, as a curator and director of international affairs. Tung has published widely on photography and contemporary art from China. Her most recent book, Ai Weiwei: Beijing 1993-2003 (MIT Press, 2019), was co-authored with Ai Weiwei and John Tancock. Tung holds a BA in Literature and History of Art and Architecture from Harvard University, and a MA in Art & Archeology from Princeton University. This year, she is completing her Ph.D. in Princeton's Art & Archeology program.
The Peabody Essex Museum also announced that it will receive a generous and inspiring gift of Japanese cloisonné enamels from renowned scholar and collector, Fredric T. Schneider. The collection, which Schneider began assembling in 1993, features approximately 900 works tracing four centuries of cloisonné enamel production. Works include commissions for the Japanese imperial family, pieces for export — among them masterworks exhibited at many International fairs — as well as a group of important cloisonné enamel pieces by contemporary master practitioners.
In 2010, Schneider authored the most comprehensive book to date on the subject–The Art of Japanese Cloisonné Enamel: History, Techniques and Artists, 1600 to the Present. Works in the Schneider Collection demonstrate the full range of techniques employed in cloisonné enamel on diverse forms. The collection also represents many of today's leading practitioners.
Selections from the collection will be on display in PEM's galleries and forthcoming exhibitions and the entire collection will be accessible to researchers. An extensive, illustrated interview-essay with Fredric T. Schneider will appear in Impressions 43, Part Two (2022), the Journal of the Japanese Art Society of America (JASA).