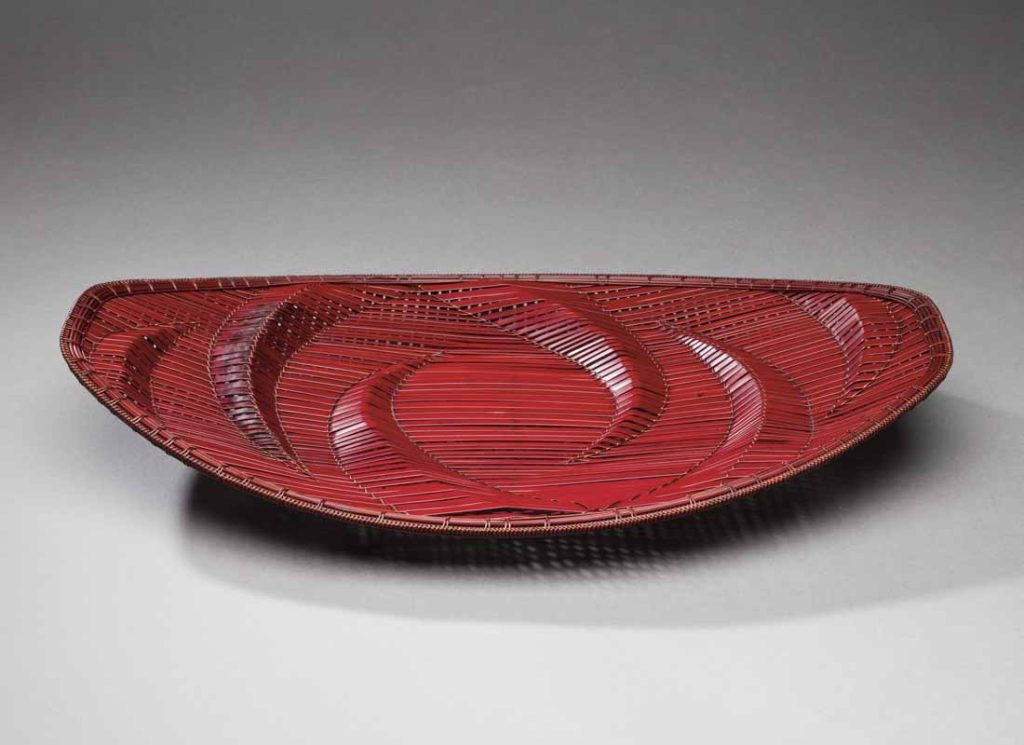 Oki Toshie (born 1976), Rapids, 2017, madake bamboo, rattan, 3.5 x 21 x 13 in.
As is the case with ink, clay, lacquer, and silk, bamboo is a material found naturally in Japan but many of the ways of working with it came from abroad. Yet, over the centuries, Japanese artists and artisans developed these materials into forms of art that are not only distinctively Japanese but are among the finest of their kind in the world. Margo Thoma, Director of TAI Modern and one of the foremost dealers in this field, is devoted to introducing and attracting as many people as possible to the wonderful world of Japanese bamboo art.
Thoma has a long-established interest in East Asian art and received a BA in art history from Stanford University, where she not only focused on East Asian cinema but took Japanese art history classes. When she moved to Santa Fe in 2006, she founded the contemporary art gallery Eight Modern. In 2014, these interests came together when she purchased TAI Gallery, founded by Robert Coffland, a highly regarded expert in Japanese bamboo art, and merged the two establishments into TAI Modern. Since then, Thoma and her staff have continued to present several exhibitions of Japanese bamboo art annually, including one in New York during March Asia Week, as well as offering shows of Western contemporary art.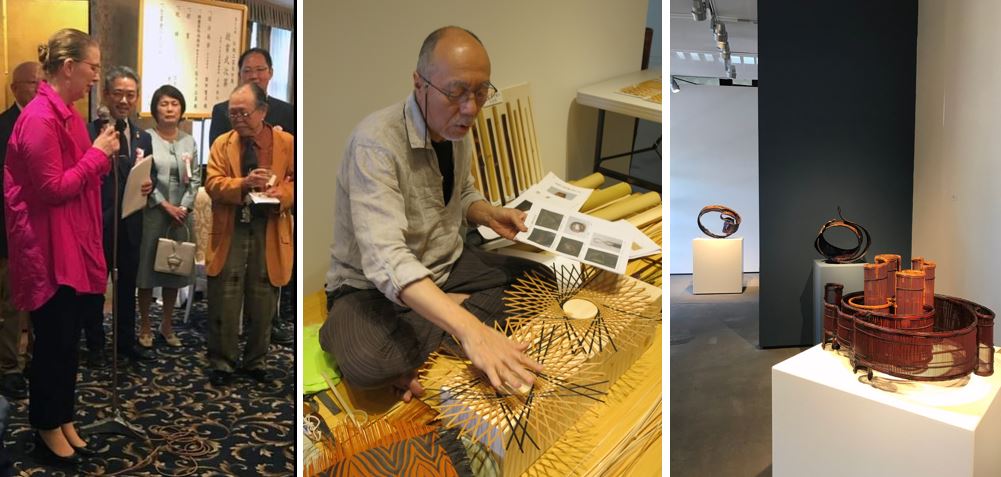 L-R: Margo Thoma delivering a speech at the awards ceremony of the national Wood and Bamboo Association, Tokyo, May 7, 2019; Fujitsuka Shosei giving a demonstration at TAI Modern, July 27, 2014; TAI Modern gallery installation of Torii Ippo exhibition, June 25, 2021
To organize and present their exhibitions, Thoma and TAI Modern's Director of Japanese Art Koichiro Okada typically make two or three trips to Japan each year to meet with bamboo artists. Thoma commented that because the compositions can take many months to complete, an exhibition often requires years of advance planning. Another important part of TAI Modern and Thoma's activities are producing and participating in a variety of educational endeavors to introduce bamboo art to more people and then deepen their understanding. Among the gallery's most popular programs are artist's demonstrations, short and informative focused presentations on You Tube, and lectures/panel discussions. A particularly informative program was the recent webinar held on April 12th and organized by the Portland Japanese Garden with their Arlene Schnitzer Curator of Culture, Art, and Education Aki Nakanishi, collector Peter Shinbach, and Thoma. This program, entitled Art of Vitality: Peter Shinbach Bamboo Art Collection and now available on YouTube, included Thoma's very informative survey of the use of bamboo in Japanese culture, description of the different regional types of bamboo, and a summary of Japanese contemporary bamboo art (to watch the video, click here).
TAI Modern sells the work of numerous Japanese bamboo artists, including historical individuals, the two current Living National Treasures who work in bamboo Katushiro Soho and Fujimura Noboru, and several women artists. Thoma pointed out that while some artists continue to produce traditional vessels, especially vases and offering trays, and may expect their creations to be used in a functional capacity, others fashion art sculptures. While, overall, there are more active collectors of Japanese bamboo art outside Japan than in the art's home country, this is particularly true for bamboo sculptures. A large and impressive example is Meoto Iwa (The Wedded Rocks), exhibited by TAI Modern in both their New York and Santa Fe exhibitions of Yufu Shohaku's art, which was also the artist's first solo show in the U.S. Here the artist recreated in bamboo two actual sacred rocks in Japan, which are tied together with a rope to represent the union between Izanagi and Izanami, the two central deities in Japan's creation myth. The artist spent much of 2020 working on this sculptural homage to connection and new beginnings.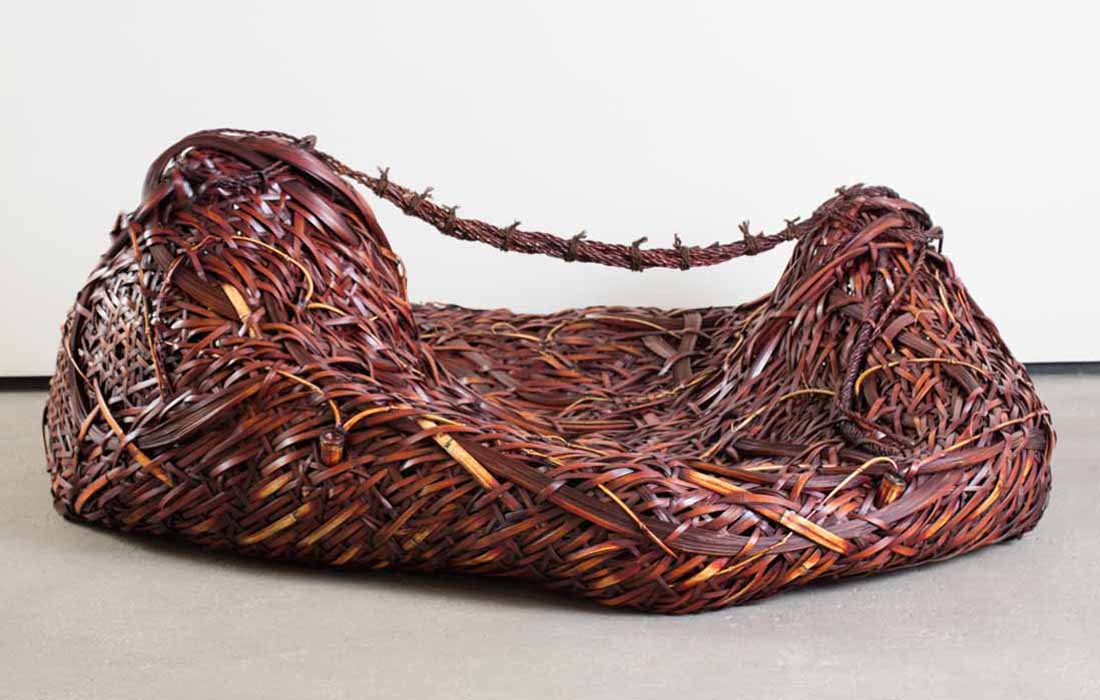 Yufu Shohaku (born 1941), Meoto Iwa (The Wedded Rocks), 2020, madake bamboo, bamboo branches, shuro rope, 24 x 61 x 59 in.
TAI Modern's next exhibition, which opens on June 24th, is similarly innovative in that it will be the first solo exhibition in the U.S. for Oki Toshie, one of the few Japanese women artists working in bamboo. As they do with other exhibitions, TAI Modern's gallery and website (click here) will offer viewers abundant text, images, and programs to enhance their experience. It is fortunate that TAI Modern makes it possible for many people to enjoy the innovative work of artists such as Oki Toshie, who is "… proud to say that I put my heart and soul into each piece I create."