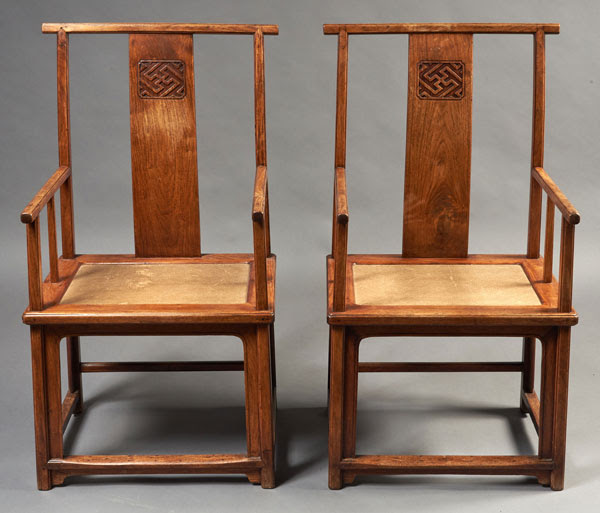 Due to a wonderful response in the last few days, the Asia Week New York Spring 2021 virtual exhibition is being extended until March 27.
The auctions are now underway, and the results so far have been very good.  Highlights include: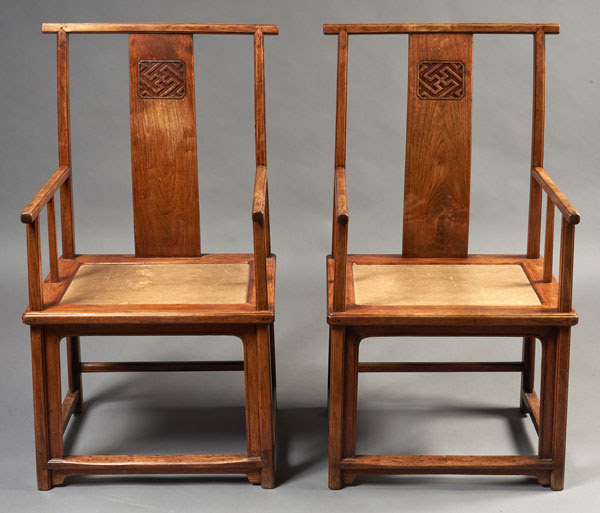 A pair of huanghuali highback chairs at Doyle, which brought $239,400 (estimate $15,000-20,000)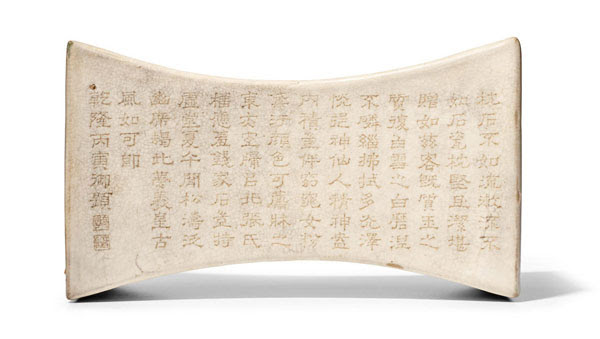 A very rare Song Dynasty (960-1279) ingot-shaped white glazed pillow with an Imperial inscription dated 1746 sold for $882,312 (estimate $50,000-80,000) at Bonhams.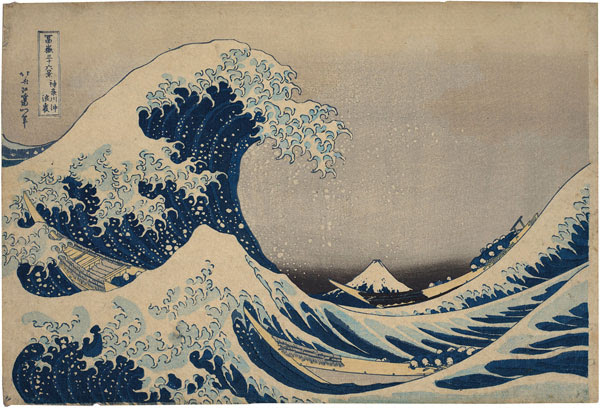 Katsushika Hokusai (1760-1849), Under the Well of the Great Wave off Kanegawa sold for $1,590,000 (estimate $150,000-200,000) at Christie's.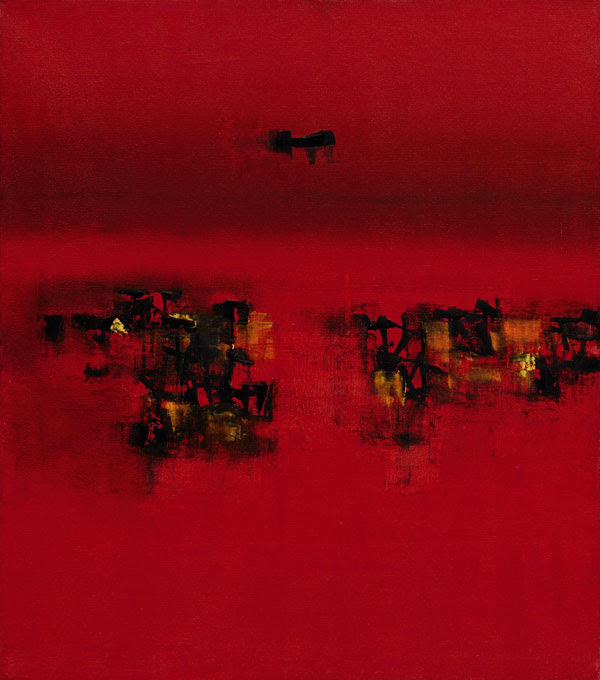 Vasudeo S. Gaitonde (1924-2001) Untitled, oil on canvas sold for $1,956,000 (estimate $800,000-1,200,000) at Sotheby's.
These New York galleries are still open by appointment: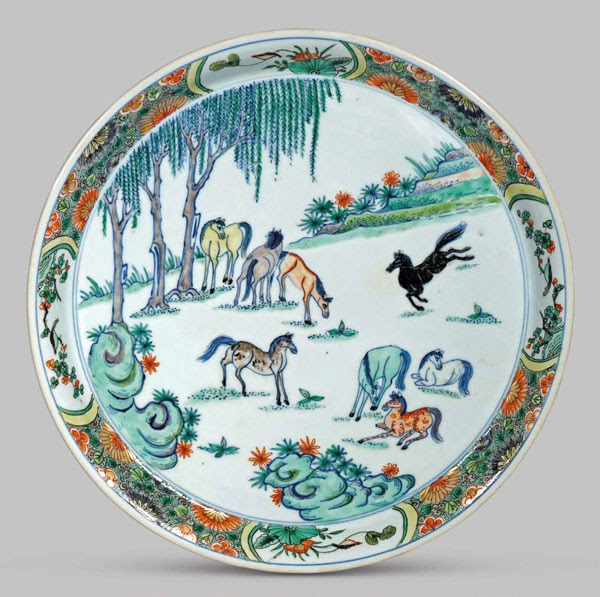 Very Unusual Doucai and Famille Verte Porcelain Plate, Kangxi Period, (1662-1722), courtesy of Ralph M. Chait Galleries, Inc.
Ralph M. Chait Galleries, Inc., 16 East 52nd Street, 10th Floor
Chambers Fine Art, 55 East 11th Street, 5th Floor
Dai Ichi Arts, Ltd., 18 East 64th Street, Suite 1F
HK Art & Antiques, 49 East 78th Street, Suite 4B
Sebastian Izzard LLC Asian Art, 17 East 76th Street, 3rd Floor
Kapoor Galleries, Inc., 34 East 67th Street, Floor 3
Joan B Mirviss LTD, 39 East 78th Street, Suite 401
Onishi Gallery, 521 West 26th Street
Scholten Japanese Art, 145 West 58th Street, Suite 6B
Thomsen Gallery, 9 east 63rd Street, Floor 2
Koichi Yanagi Oriental Fine Arts, 17 East 71st Street, 4th Floor
Miyako Yoshinaga, 24 East 64th Street
Zetterquist Galleries, 3 East 66th Street, Suite 2B
You can preview highlights from all 29 of our exhibiting galleries that remain available virtually through the Online Viewing Room.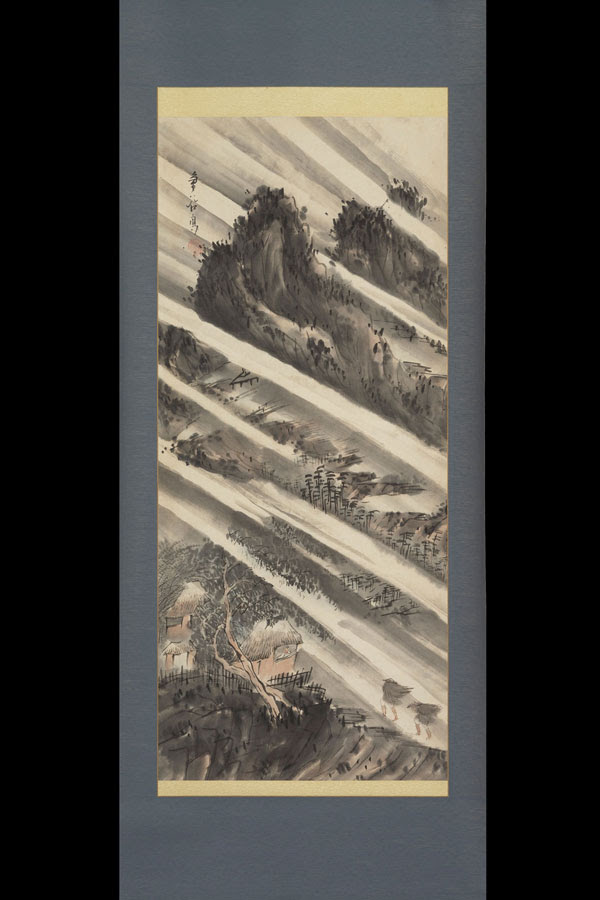 Travelers in a Storm, by Yokoi Kinkoku (1761-1832), Edo Period, 18th-19th century Japan, hanging scroll, courtesy of Koichi Yanagi Oriental Fine Arts
More auctions are coming and can be followed online:
Wednesday, March 17
Online auction, Indian, Himalayan and Southeast Asian Art runs until March 19
Wednesday, March 17
South Asian Modern + Contemporary Art Including Works from the Estate of Benode Behari Mukherjee
South Asian Modern + Contemporary Art online closes on Thursday, March 18
Thursday, March 18
Shang: Early Chinese Ritual Bronzes from the Daniel Shapiro Collection
Important Chinese Art from the Junkunc Collection
Thursday, March 18 and Friday, March 19
Important Chinese Ceramics and Works of Art
Wednesday, March 17
Online auction, The Hundred Antiques: Fine and Decorative Asian Art runs until March 24