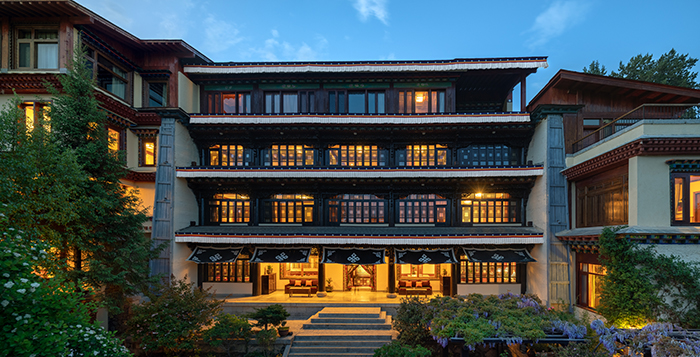 Songtsam is Asia Week New York's 2020 Presenting Sponsor. Learn more about another one of their stunning properties below!
Songtsam's first lodge opened its doors in 2001 and underwent a renovation in 2019. Tucked away from the hustle and bustle of downtown Shangri-La, the lodge is located in Kna Village only a 2-minute walk to the Songzanlin Monastery. The lodge is a beautiful four-storey stone building housed in a traditional Tibetan dwelling within a self-sufficient farming village, where founder Pema Dorjee spent his childhood. Rooms excel in creating a true feeling of home, all of which are decorated in a Tibetan style and balanced with modern comforts. The inside of the property exhibits an impressive collection of hand-picked antique furniture, Tibetan Thangkas, and handicrafts, as well as traditional intricately woven carpets featured throughout the lodge.
Destinations & Activities
Shangri-La is the capital of Diqing Tibetan Autonomous Prefecture in Yunnan Province, China with an altitude of 3,200 metres. It has been long viewed as a paradise on earth with its majestic landscapes, diverse cultures, and deep spirituality. Located in a wide valley Shangri-La is surrounded by mountain ranges on all four sides. It is the capital of the Diqing Tibetan Autonomous Prefecture, and the gateway to the ancient Tibetan kingdom. The region is characterised by snow-capped mountain peaks, pristine forests and lakes, as well as traditional Tibetan villages with white-walled and richly decorated buildings. There are many beautiful hiking routes to explore the mountains, lakes, and idyllic villages and pastures.