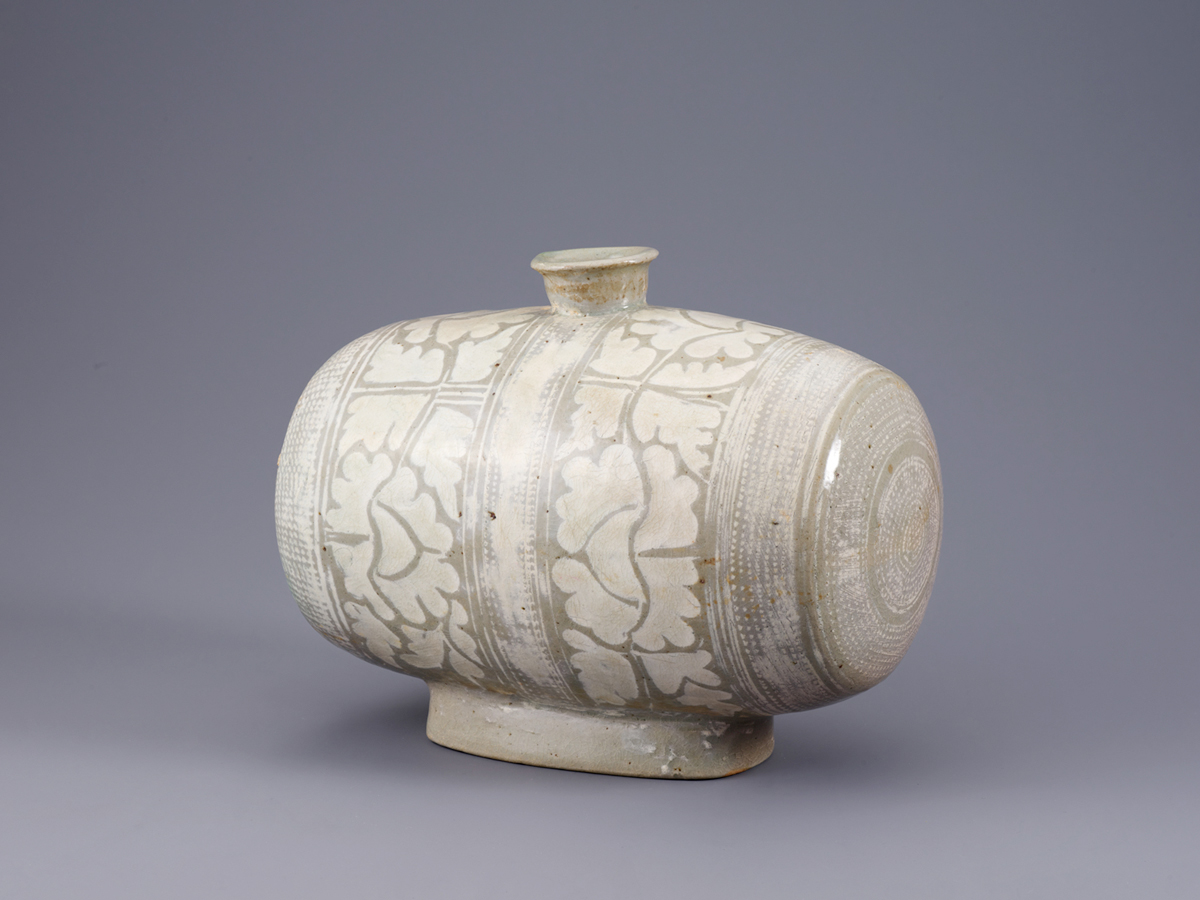 Barerel-Shaped Bottle with Peony Motif, Joseon dynasty (1392-1897), Korea, 8 3/4 x diam: 6 1/4 in., Buncheong with inlaid and stamped design; National Museum of Korea; Bequest of Lee Kun-Hee, 2021
NEW EXHIBITION
Perfectly Imperfect: Korean Buncheong Ceramics
Opened December 3, 2023
Location: Martin Building, Level 5
Perfectly Imperfect: Korean Buncheong Ceramics, co-organized with the National Museum of Korea (NMK), features more than 70 exquisite works of Korean Buncheong ceramics from the 15th century to today, renowned for their white slip and adorned with diverse surface decorative techniques. The exhibition also includes four 20th- and 21st-century paintings as well as 16 drawings by five painters.
Sophisticated, playful, and engaging, buncheong ceramics became a uniquely Korean art form in the late 14th to 16th centuries. Elements of the buncheong style have remained relevant in modern and contemporary Korean art and have influenced other artistic expressions. Its refined and rustic aesthetic has been admired by generations of potters and artists in Korea and across the world.
To learn more, click here.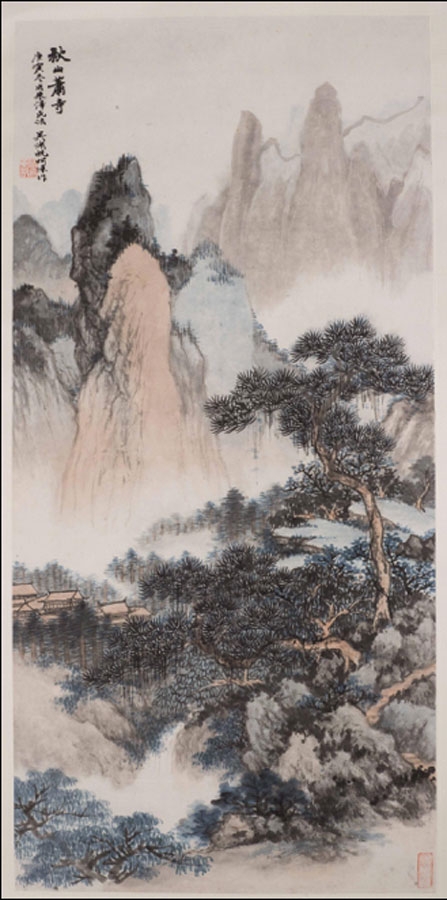 Wu Hufan, China (1894–1968), Monastery in the Autumn Mountains, 1969, hanging scroll, ink, color on paper, 40 5/8 x 22 3/4 in., Lent to the Denver Art Museum by Robert and Lisa Kessler
CURRENT EXHIBITION
Fantastic Brush: Twentieth-Century Chinese Ink Art from the Robert and Lisa Kessler Collection
Second Rotation, Now on View
Location: Jackson Gallery, Asian Art Galleries, 5th floor of Martin Building
The 23 ink paintings featured in Fantastic Brush: Twentieth-Century Chinese Ink Art from the Robert and Lisa Kessler Collection are generously lent by the Denver-based eminent collectors Mr. and Mrs. Kessler. Works on view showcase some of the most important artists in twentieth-century China, including Zhang Daqian, Qi Baishi, Xu Beihong, Wu Changshuo, and Wu Guanzhong. The collection includes examples by teachers and students, friends, and colleagues. All were confronted with rapidly changing times and found their own unique interpretation of what it means to produce ink art in the twentieth century.
To view the exhibition, click here.
Asian Art Galleries
Originating with a major gift from Mr. Walter C. Mead in 1915, the Asian art collection is one of the earliest at the Denver Art Museum. It encompasses rare and important artworks from East Asia (China, Korea, and Japan), South and Southeast Asia, and Central and West Asia. Its holdings of some 7000 objects span nearly six millennia, from prehistoric to contemporary art. The collection boasts strengths in Chinese textiles from the Qing dynasty, South and Southeast Asian sculpture, ceramics from across the region, East Asian bamboo art, as well as Japanese Edo period painting and twentieth-century prints.
The reimagined Asian art galleries showcase a breathtaking display of over 800 artworks collectively tracing visible and invisible links across time and space in the arts of Asia. Masterpieces include paintings by Edo master Itō Jakuchū, Northern Wei sarcophagus bearing animals of the cardinal directions, a ninth century BCE Assyrian bas-relief, and a Chola dynasty Dancing Śiva. Interweaved throughout are works by modern and contemporary artists such as Golnaz Fathi, Xu Bing, and Hamada Shoji.
To view the works, click here.