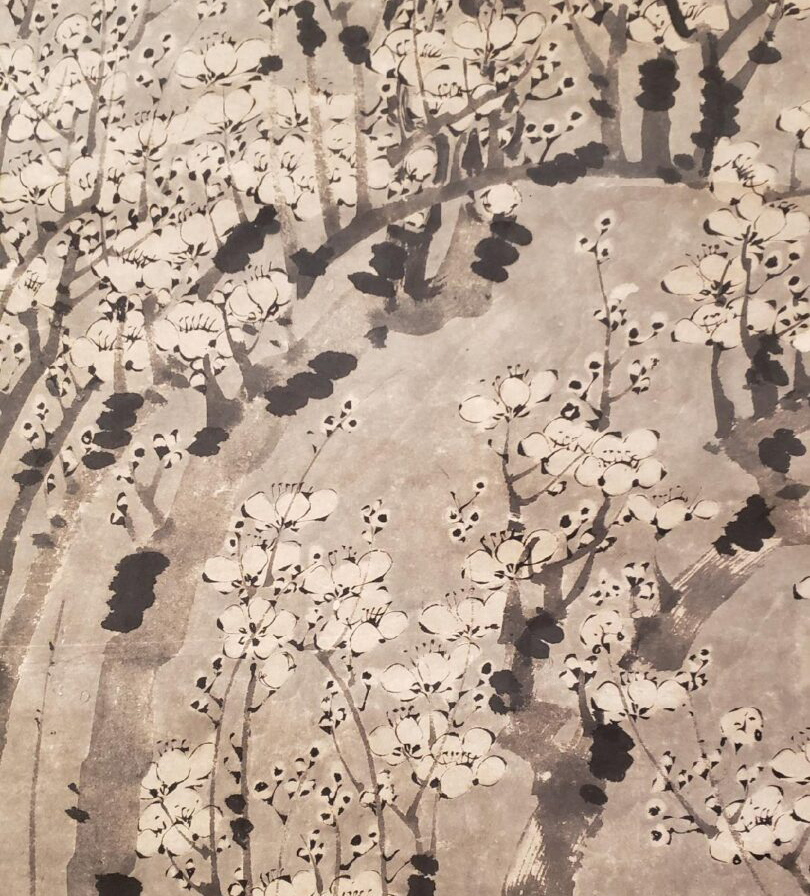 Chen Lu (dates unknown), Plum Blossoms in the Moonlight (detail), Hanging scroll, ink on paper, Collection of the Tianjin Museum
Zoom Into Painting: Details from Exhibition Flowers on a River
September 15, 2023 – January 5, 2024
This special showcase features enlarged details of paintings from the works of 21 selected artists. With more elaborate introductions and an accompanying video presentation, it serves as an extension of the original exhibition titled Flowers on a River: The Art of Chinese Flower-and-Bird Painting, 1368-1911, Masterworks from Tianjin Museum and Changzhou Museum. This showcase presents a fresh opportunity for both the general public and art enthusiasts to deepen their understanding and admiration for the Chinese flower-and-bird painting genre.
While retaining the three original sections—"Precious Plums of the Palace: Academicism and Court Painters," "Fragrant Plums in the Wild: The Literati and Their Painting Schools," and "Vitality of Nature: Flower-and-Bird Painting and Customs"—this exhibition places a special emphasis on ink plum painting, female painters, and a standout highlight from the original exhibition: the monumental handscroll by Zhu Da (1626-1705) titled Flowers on a River.
Join us at China Institute Gallery for a captivating journey through the world of Chinese flower-and-bird painting. Immerse yourself in the artistry and culture that has shaped generations. For an enriched visit, we are delighted to offer a dedicated "painting station," which allows you to experiment with your own brushwork and engage more deeply with the art of ink plum painting.
To learn more, click here.
PAST EVENT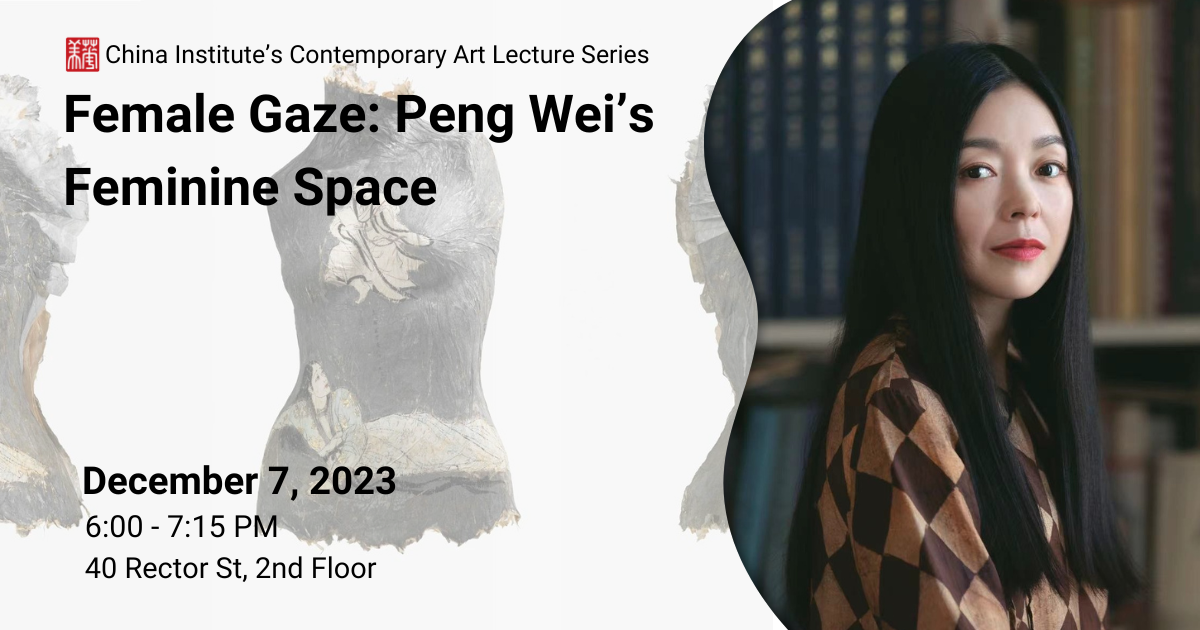 December 7, 2023
6:00 – 7:15 PM EST
Join us for an immersive exploration into the captivating world of Peng Wei, an artist renowned for her unique approach to representing the diversity of female perspectives. This lecture is a key part of the lecture series for the China Institute's contemporary art exhibition, showcasing the multifaceted nature of Chinese contemporary art and its dialogues with history and identity.
This lecture will delve into the multiple dimensions of Peng Wei's art. Whether expansive or intimate, three-dimensional or flat, her work consistently centers around women. Rather than simply portraying real or fictional female figures, Peng Wei engages in a dynamic process of responding to and reshaping these representations.
This nuanced interplay between response and remodeling in Peng Wei's art blurs the lines, demanding a closer look and deeper understanding. Join us in this artistic exploration, where each piece is a dialogue, a story, and a celebration of women's diverse experiences throughout history.
Schedule
5:30-6:00 PM Registration
6:00-7:15 PM Dialogue between Peng Wei and Jane DeBevoise
To register, click here.