Transformation Masks
It has been fashionable of late to access the merits of tribal art in a decontextualized manner. We often use a language of connoisseurship to assign aesthetic value to a ritual object now defined as a work of art. This, despite the fact that when it was created such criterion may never have been remotely considered. Instead, indigenous ideals of beauty based on ancestral traditions and iconic efficacy would have been more important.
To this end, an art brut mask may be more effective in ceremonies than a conventionally pretty mask and therefore be handed down for more generations and develop a deep patina as a result.
We present here a sampling of masks from the Himalayas and Indonesia that was presented along with contemporary works from the Shamanic Mask Series by sculptor Mort Golub that shared common themes of animism and transformation.
To view the exhibition, click here.
RECENT PUBLICATION
Textiles of Indonesia: The Thomas Murray Collection
Drawn from one of the world's leading textile collections, this magnificently presented array of traditional weavings from the Indonesian archipelago provides a unique window into the region's cultures, rites, and history.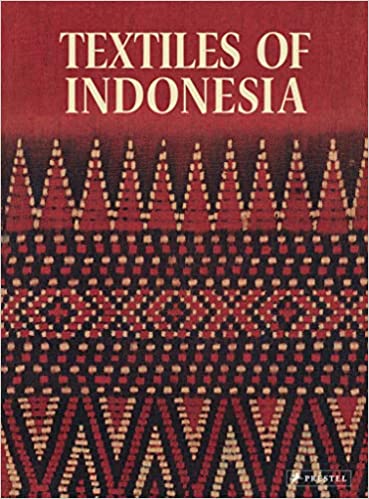 Gathered over the course of four decades, the Thomas Murray collection of Indonesian textiles is one of the most important privately owned collections of its type in the world. The objects comprise ritual clothing and ceremonial cloths that tell us much about the traditions of pre-Islamic Indonesian cultures, as well as about the influences of regional trade with China, India, the Arab world, and Europe. As with the earlier volume, Textiles of Japan (Prestel, 2018), the book focuses on some of the finest cloths to come out of the archipelago, presenting each object with impeccable photographs, colors, patterns, and intricate details. Geographically arranged, this volume pays particular attention to textiles from the Batak and the Lampung region of Sumatra, the Dayak of Borneo, and the Toraja of Sulawesi, as well as rare textiles from Sumba, Timor and other islands. Readers will learn about the intricate and highly developed traditions of dyeing, weaving, and beading techniques that have been practiced for centuries, resulting in a breathtaking collection of motifs, patterns, dyes, and adornments. Original texts by leading international experts draw on the latest research to offer historical context, unspool the mysteries behind ancient iconography, and provide new insights into dating and provenance.
Full List of Contributors: Lorraine Aragon, Joanna Barrkman, Chris Buckley, Kristal Hale, Valerie Hector, Janet Alison Hoskins, Itie van Hout, Eric Kjellgren, Fiona Kerlogue, Brigitte Khan Majlis, Robyn Maxwell, Thomas Murray, and Sandra Sardjono.
For more information, click here.
ABOUT THE GALLERY
Thomas Murray is a California-based independent researcher, collector, lecturer, author and private dealer of Asian, tribal and textile art with an emphasis on antique Indonesian sculpture and textiles and Indian printed trade cloths from the 13th to 18th centuries, as well as animistic art from other varied cultures. A contributing editor to HALI Magazine for more than thirty years, he serves as its in-house consultant on ethnographic textiles and has more than fifty publications to his name, including numerous articles on tribal art and textiles, as well as eight books and catalogues: Indonesian Tribal Art (2001), Animistic Art of Island Asia (2008), Masks of Fabled Lands(2009), Pairs, Couples and Maternity: The Art of Two (2014), C-14 Dating of Dayak Art(2015), Textiles of Japan (2018), and Rarities–From the Himalayas to Hawaii (2019), as well as the new Textiles of Indonesia (2021). He is past president of the Antique Tribal Art Dealers Association and served a three year term as a member of US President Barack Obama's Cultural Property Advisory Committee at the Department of State in Washington, DC. Thomas Murray serves currently as the president of SF Tribal, an organization of San Francisco Bay Area art dealers.