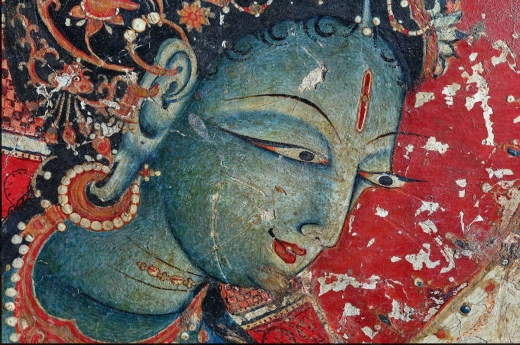 Vasudhara Tara Portrait
The Tibet House Gallery annually showcases quarterly contemporary exhibitions works by Tibetan artists, and representative work from other Buddhist cultures – Mongolia, Korea, Japan. The Gallery seeks to provide exposure and support for work inspired by Tibetan culture and all facets of its' sacred arts, to actively engage the viewer with a contemporary understanding of the benefits this endangered culture offers to our world today.
The 2,000 square foot Gallery is open to the public and includes a traditional Tibetan shrine room, available for quiet contemplation and meditation.
To learn more, click here.
PAST EXHIBITION
Alchi: Visions of Enlightenment
Monumental Photographs by Peter Van Ham
April 20 – September 2023
View monumental photographs of the world-renowned Buddhist monastery complex of Alchi by Peter van Ham. At an altitude of ten thousand feet nestled in a lush valley surrounded by the majestic Himalayas, Alchi is a destination for art lovers and seekers alike. Mandalas and towering sculptures of Bodhisattvas adorn the walls, ceilings and doors of each temple and include scenes from the Buddha's life as well as secular life from a period of tremendous cross-cultural activity in the region. This summer exhibition immersed viewers in some of the oldest surviving paintings in Ladakh.
To view the exhibition, click here.